Video Inspection and Hydro-Jetting
Professional Video Inspection of Pipes and Sewer Lines in Aspen & Vail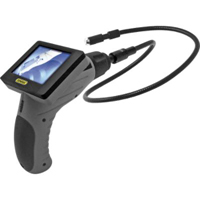 You may not realize it, but as a homeowner you are responsible for paying for repairs to the sewer lines running from your home to the street. In most cases those lines were put in place years ago when your home was originally built. A sewer backup is a traumatic situation which sometimes causes property damage and at the least stinks up the house. A sewage backup does not mean that your pipes are broken. Short of replacing your pipes, hydro-jetting is the most efficient way to clear pipes of blockages without damage to the surrounding area and infrastructure. Call Bishop Plumbing, Heating & Air Conditioning to clean out your pipes and to inspect their condition. We will be able to give you a complete evaluation on the condition of your pipes.
Drain Cleaning include preventive maintenance, video inspection, pressure jetting and tunneling of lines. With the use of water under high pressure we can clean and remove grease, scale and dirt from those dirty pipes. The combination of high pressure hydro jetting and video inspection can locate breaks and root penetrations in a building's sewer system before digging to remove the guess work. Rooter Services include rigid machine and cable services for root removal and stoppages in pipes. These services are often covered by insurance when they mitigate water damage or when they are performed as part of water restoration solutions.
Exposure to sewage from broken sewer lines can cause serious health issues. Organisms found in the sewer waste such as pinworms, salmonella, E. Coli, hepatitis A. not only cause disease, but may be life threatening, as well. In the event of a sewer line break and leak into your Glenwood Springs home, consider hiring a professional plumbing service company like Bishop Plumbing, Heating & Air Conditioning to do the dirty work do everything is cleaned as thoroughly as necessary. We will assess the damage, aid in cleanup, look for any additional damage or problem areas in your sewer lines, and advise you as to your best course of action. If you do try to clean sewer waster on your own, please be cautious. Allow enough ventilation by keeping your windows open, and clear moist air using an exhaust fan. Wear a mask that can prevent inhaling contaminants and allow walls to be dried from the inside out. Keep away from the wet breaker box and wet outlets or when they are located near any water.
| Call today for your Hydro Jetting & Video Inspection in Aspen, Vail & Rifle CO!
Broken pipes can lead to many environmental and financial problems if not dealt with in a timely manner. If you suspect there is a problem you should turn off the source of the water to minimize the damage. Contact us to see if there is any water damage or damage to your plumbing systems. A broken water pipe can cause a major inconvenience to not only the homeowner but also the community. Also, if the pipe is broken it can be hazardous to health because debris and bacteria can enter the water stream. Broken pipes usually can be detected visually. If a nearby area of land is constantly wet or there is always a puddle present, this may be a sign of a broken pipe. Professionals have other ways of spotting water leaks such as pressure gauges and special hearing devices that listen for leaks.
When you hire Bishop Plumbing, Heating & Air Conditioning, there is no need to worry. Each plumber has been trained to deal with many different situations. This means that your situation may not be different from others. It may be easily taken care of if the plumber has the right equipment. Our plumbers know how to use electronic equipment in order to find water, drain, and gas leaks. If you are interested in learning more about the leak detection services that our company provides, do not hesitate to contact our offices. We will be more than happy to help you. Our video inspection and listening equipment can pinpoint the exact location of leaks. Our tracing equipment can find buried or concealed pipes causing problems.
Sewer gas and odor problems can be hard to detect because you can't see the problem and the smell can be misleading when the odor is circulating through ventilation systems. In this situation, we use a smoke generating machine that allows us to see the sewer gas which will lead us to the source of the problem. The machine works by creating smoke into the drains and the ventilation systems.